Good Friday April  18 2014
We did our last boil yesterday, Thursday.  The trees are done and our season is over.  Made delicious dark syrup.

It's been an odd season - we'll post after the busy Easter weekend and update folks.  We're open Fri-Sat-Sun-Mon this weekend, 9 to 5.
10:20 am Thursday April 17
Boiling today.  Wahoo.  Explanation marks don't work in this font, but trust me, they're there.
Firing up around noon.  Collected enough yesterday.  What a beautiful spring day.  About 100 Grade 6's coming today. 
11:15 pm Wednesday April 16
Are the trees going to offer sap again tomorrow?  We'll see. 
Forecast:  Colchester County North. 
Tonight..Partly cloudy. Clearing this evening. Wind northwest
20 km/h. Low minus 6.
Thursday..Sunny. Wind northwest 20 km/h becoming light in the
morning. High plus 4. UV index 6 or high.
Thursday night..Clear. Low minus 5.
Friday..Sunny. High 6.


Looks promising.  Ideal temps are minus 5 plus 5.
Meanwhile the alders are flowering, the coltsfoot is in bloom.  Hmm....the end of the season is certainly approaching.

10:54 am Monday April 14
Boiling today.  For about an hour.  Despite the below freezing temps on Saturday night, we did not get much sap.
However, the farm was hopping - tours, sugar on snow, maple tasting, brunch and tons of people hiking the Rogart Mtn Trail.
9:28 am Sunday April 13
Well we got down to minus 3 last night.  We'll see if the trees like that today.
What a glorious sunny day!!!
11:21 am Saturday April 12
Just fired up - boiling today.  1/2 tank of sap...not a lot but we'll be grateful for every drop.
9:30 pm Thursday April 10
Scott and Dave boiled today, fired up at around 4.  Just finished up and made lots of very tasty syrup.  Scott's just bottling now...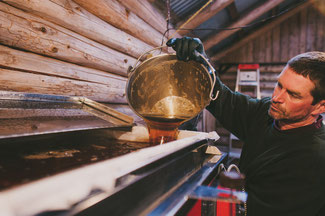 9:22 am Thursday April 10
There was no sap running yesterday.  It went down to minus 6 last night.  Sun is out now.  The forecast temp for today is very promising.  If ever there ought to be a sap day, today should be it - we're crossing our fingers that the trees agree. 

1:58 pm Tuesday April 8
Wet, wild and windy day here in Nova Scotia. 
We boiled yesterday - collected just over 1/2 tank since Sunday.  It was a great day for boiling - sunny and warm.  Made very tasty syrup.
Last night it only went to minus 1.  Today the sap is trickling.  We need a nice cold night. 
10:05 pm Sunday April 6
Boiled today.  Not a big run, but yummy syrup.  Over 400 people visited the farm.  Funny that it was plus 6 and sunny in Halifax...and cool, grey, cloudy and wet here in Earltown.  Typical. 
Bob and Glenda came out to help again.  Sure is great to have them here. 
Samara worked all over the place - in the "shack" helping customers and mopping the floor at the end of the day. 
2" in the tank when we left.  Scott will check it again tonight...and may boil again tomorrow.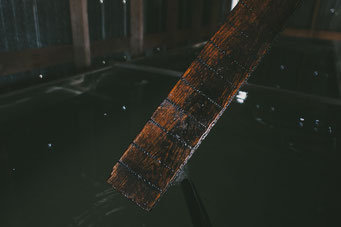 8:11 am Sunday April 6
Time for a boil.  Sap ran all night.  Bob Williams coming out at 11:30 to fire.  We'll be starting up late morning and should boil all afternoon.  Yahoo!
Scott says he saw geese flying over this morning, saw a song sparrow near the camp and a fox sparrow near the house.
10:34 am Saturday
Scott's heading up to the woods to check the lines - hasn't had a chance to do that since the storms.
It's 1/2 degree above zero.  The sap will run today.  We're hoping that we will be able to collect enough to boil tomorrow, Sunday.
8:23 am Saturday April 5
Happy 9th Birthday "sugar baby" Samara.  You are our little seed with wings.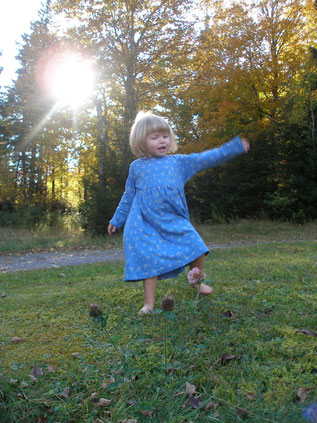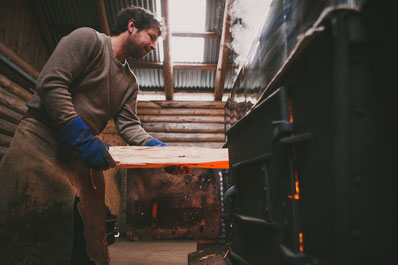 6:22 pm Friday April 4
Sap ran today.  Scott made syrup.  Dave fired.  This may repeat tomorrow.  It will definitely happen again over the weekend...but not quite sure if we'll get enough for tomorrow.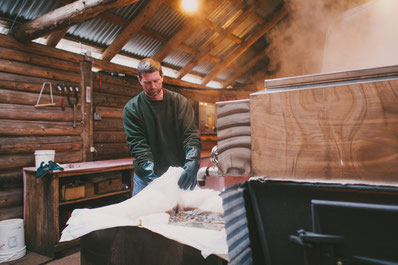 10:10 pm Wednesday April 2, 2014
Saturday was indeed a special day.  Bob and Glenda spent most of the afternoon here, boiling, firing, chatting, eating, reminiscing.  The Earltown Community Pancake Supper was a great success; the weather was perfect - sunny and mild. 
Since our boil Saturday, we've collected 14"...less than 1/2 tank. 
Forecast is plus 4 tomorrow, but there have been many days we've had forecast temps and nothing happened. 
So...are we going to be boiling?  It's possible...but Scott's thinking Friday would be more likely.  Unless it opens up in a big way.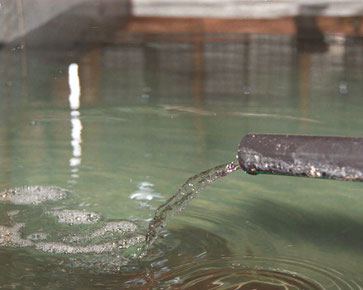 8:00 am Saturday March 29
Good morning and Happy Spring!  The sap ran yesterday afternoon and last night.  What a great sight. 

We will be firing up at some point today.  Perfect, as today is the Earltown Pancake Supper (10 - 6) as well - it's a Maple Weekend in Earltown.
Very much look forward to having Bob Williams, our mentor and original owner of this farm, here today to work with Scott.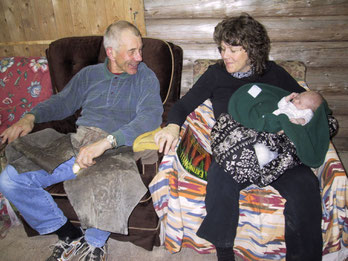 10:17 am Wednesday March 26
Just awaiting the huge winter storm that's supposed to hit today.  
Supposed to be a whopper - much like White Juan that brought tons of snow and power outages in 2004.
Needless to say, we've had no sap flow Monday and Tuesday.  It's been too cold.  However, temperatures are rising by Friday and we should get sap then, and maybe Saturday as well.
We have made very little syrup - the season has just begun.
9:30 am Monday March 24
Great sunny day here.  But minus 16 here this morning.  Yesterday we collected enough sap by 4 pm to fire up and boil.  Made a little syrup.  Had to clean up the tank because it was going to get so cold last night.  And the next couple of days will remain cold.  Now we have a BIG snowstorm coming Wednesday.  So the next time we might get sap would be Friday when they are calling for plus temperatures. 
10:19 am Sunday March 23
It went down to minus 7 here last night and it's minus 3 right now. Yesterday''s boil took care of all the sap we had.  Not sure if we're going to get any today or not.  We'll see what the trees do!
But what a glorious sunny snowy day here.
10:25 pm Saturday March 22
Great first boil today.  Made incredible golden early-season delicate syrup.  Folks were watching in the camp and tasting it hot off the evaporator.  There's nothing else like it. 

And the first syrup went into our new custom jugs.  No more confused customers thinking they've bought our syrup in the grocery store:  Sugar Moon syrup is sold only at the farm and at the Tatamagouche Farmers' Market (May thru Oct).

We have no idea as to what the sap will do tomorrow.  We do know that we have light fluffy snow falling now and the farm will be beautiful.  And there's still lots of snow in the woods.  The geese are back.  Spring is here and more sap will run. 
8:13 pm Friday March 21
We are boiling tomorrow, Saturday.  Firing up sometime mid day.  Finally.  Grateful.
The geese are back.  Sap and geese together - every year.

9:20 am Friday March 21
On a sad note, our hearts go out to the Bentley's and their huge loss.  Fire destroyed their entire Cumberland County operation this week.  What a devastating thing to happen at the start of a maple season. 
9:15 am Friday March 21
We didn't achieve the forecasted highs for the last couple of days.  We did collect a little bit of sap overnight, last night.  We're waiting to see what happens today.

That's the sugar season sometimes.  A lot of waiting.
10:04 pm Wednesday March 19
A trickle of sap today.  Apparently it got above zero at some point. 
1:59 pm Monday March 17
Happy Birthday sweet sugar man...
Northumberlamb Lamb Chops, Wild rice + Roast butternut squash with apple crisp tonight.  Family.
Yesterday Scott fired up the evaporator for the first time this year.  Primed the system...and now we wait for more sap.  Wednesday looks likely...and then Thursday...and then Friday...
9:55 am Sunday March 16 2014
Saturday's weather only saw plus 3 and clouds, with showers later in the day.  The sap trickled and by Sunday morning we're awfully close to a "full" tank of sap (850 gallon tank) - "full" because there's a heck of a lot of ice in there.  Because of that, we probably don't have quite enough to prime the evaporator - that is, make syrup off of this sap - but Scott's decided to get it out of the sap tank to avoid having a 700+ gallon ice cube, given the forecast of below zero temperatures for the next few days.
Fun and games!
8:30 am Friday March 14 2014
What a glorious sunny day!  Warm enough for sap?  Doubt it when they're calling for a high of minus 5.  We need temperatures well above freezing in order for the sap to run.  Got a little on March 12 (Wednesday) but just a small flow.  Then it ran for a couple of hours on the 13th til the temperature dropped.  It was minus 6 by noon.  We've still got around 1/2 of what we need to do a "priming boil".  We'll see what Saturday brings.
4:12 pm Saturday March 8 2014
A mild slushy day and the sap is running.  Spring is here!  Now we have to collect enough to prime the evaporator - then we'll be able to make syrup. 

Happy Spring!
10:39 am Tuesday March 4 2014
Minus 25 here this morning.  We have not had temperatures like this in March for a long time.  But boy is it beautiful!  Crisp snow, blue sky, sun - love it. 
Scott just did a phone interview with CTV News at 5 with Jason Baxter.  He was wondering about these cold temperatures and how they might affect the season.  Watch TV tonight to hear I guess!
2:43 pm Monday March 3 2014
Beautiful cold sunny day with lots of fresh powdery snow.  Wow.
Scott finished tapping over the weekend - yahoo.  Now we wait for sap.
11:48 am Sunday March 2 2014
Beautiful fresh fluffy snow.  What a perfect day for a snowshoe + brunch.
Friday's Japanese group from Saint Mary's had quite an eventful trip here.  Their bus broke down so they ended up staying til 7:30 instead of 3:30.  We fed them hot chocolate, they sang, laughed and socialized.  And then the organizers okayed us to have the Earltown General Store do up a bunch of their "lumberjack-sized" sandwiches and run them over.   When they left they were happy and fed. 
Thanks to staff Calora for such TLC. 
Thanks to neighbour Layton Lynch for trying to help get the bus going.
And thanks to Kayla at the Earltown Store for coming through at the last minute.  Make sure you check out the store when you come up this way.
Today staff are cleaning the sugar camp, getting it spick + span for the pending sap run.  When will that happen?  Doesn't look like it will be anytime soon with this arctic air coming next week.
We had a great customer yesterday who shared his maple-sugaring progress with us...and emailed later with details.  For all you "backyard sugarmakers" - here's his season so fa.r:
Hi Quita - We enjoyed a meal of pancakes and sausage with our German student today.  I was talking with you about tapping in Stewiacke.  I believe it was Feb.21 to Feb.23 that we had a small run of sap.  I tapped on Feb. 21 and it was running a little.  With 18 taps we collected enough sap to boil, with close to a liter of syrup as a result.  We just do red maples in our yard and make 5 - 8 liters a syrup a year.  Bruce Mitchell
12:30 pm Friday February 28 2014
Scott is out tapping again.  We're so lucky that the weather is holding.  It's COLD in the mornings - minus 17 or minus 20 - but then the sun has been coming out - a beautiful warm spring sun - and allowing him to head up the hill and put in a few taps.  He's averaging around 350 taps every day.  This morning he figured he had about 13 hrs of tapping left to do.  Woohoo!  Then the sap can come.
Today we are welcoming a group of 20 Japanese ESL students from Saint Mary's University.  They're doing a tour with me, eating our traditional sugar camp lunch, and then experiencing sugar on snow AND snowshoeing.  What a great afternoon they'll have.
At the same time, we're training staff for the busy season coming up.  We have such a great new crew of interesting staff - you'll have to say hello when you come to visit.  And of course we have all the "old" staff who've been with us for, some of them, many years.
This weekend is the first we'll be offering sugar on snow all day, 10 am to 4 pm.  Come on up!
Monday February 24 2014
Good day of tapping today!  Scott got 400 taps in.  The conditions are pretty good.  Sure need snowshoes though - step off the trail and you sink thigh-deep.
Check out our photo essay about tapping, by Christine Whalen of Wonky Eye Photography. 
Wednesday February 26 2014
Good day of tapping today!  Cold but productive.  Scott's a little better than 1/2 way done. 

Lots of wildlife activity in the woods these days:  Scott saw tracks of coyote, mink, hare, bobcat, fisher, weasel, squirrel, partridge and assorted rodents - almost everything that lives on this mountain this time of year.  Pileated woodpeckers are vocal and active too.
Today we had a great group of Tourism Hospitality students at the farm - they snowshoed way up into the woods, learning orienteering skills with a topographical map as they went.  Then they had a Sugar Moon Classic lunch and a guided tour with me.  Love these students - so keen. 
Sunday February 23 2014
Scott started tapping yesterday!  Conditions were a bit too warm (wet heavy snow etc) but he made good progress.
Today is a glorious sunny day and a bit cooler - perfect for tapping!
Spring is coming!!
The restaurant was busy with visitors, snowshoeing, enjoying pancakes, tasting maple syrup.  Everyone is eager for sugar-on-snow to start next weekend.
Friday February 21 2014
Apologies for not posting sooner.  No progress on the sap yet.  But some significant family events had us preoccupied, one of which was the loss of Scott's father, George Whitelaw, after a 30 year struggle with rheumatoid arthritis.  Family gathered at home and we all celebrated his life.

And now we move on to the pending sugar season.  Scott is still doing some repairs and is really wanting to get tapping next week.  The weather doesn't sound like it will be bringing sap anytime really soon so we have a bit of a breather.
Monday February 2 2014
Our new little Akbash puppy is here - sweet Bahar - "spring" in Turkish.  He'll be experiencing the season with our family.  At 8 weeks he is still learning how to be apart from litter mates.  A roly poly and curious puppy!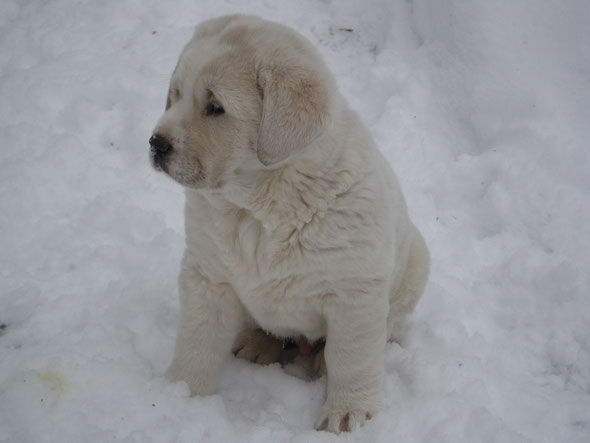 Friday January 17 2014
Rain - it feels like spring!  But we all know that this is just a tease.  We'll get more snow yet. 
Just in the process of ordering our custom maple syrup jugs.  Can't wait to see the final result.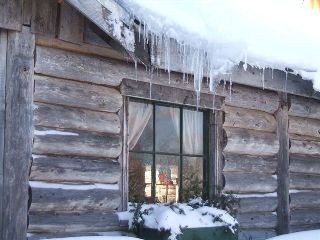 January 5 2014
It's a beautiful snowy day up here and we are just moving out of a VERY cold period - minus 25 + windchill has made life interesting!  Sledding and snowshoeing episodes are brief.  And Yasam, our aging Akbash who normally prefers to be outdoors, is back and forth from inside and out, not sure which he wants. 
Just made the decision for no sleigh rides this year.  Poor Gordie is still struggling - we thought the year might help things but Scott took him and Jiggs out last month and although they were both their usual awesomely calm selves, Gordie was feeling pretty sore by the time he returned to the barn.  They're both 18.  Still have lots of life in them and are great in the woods, but pulling a sleigh full of people is another thing.  Guess we'll have to assess what's next.  We're probably looking for a good home for Gordie. 
Today we are thinking maple.  And getting alittle panicked, as we always do.  Spring will be upon us so soon and we have so much to do.
First things first, though:  Scott's got to get up to the woods sometime soon to check for repairs to the lines.  And we're waiting for our new insulated doors for our evaporator to arrive so that they can be installed. 
Meanwhile, Quita's collecting the sugar season team and getting a sense of who's around and eager to work..  Fun! 
Stay tuned...and we'll keep track of each step along the way to spring.